Directions
This page features directions to the ILS Labs in the basement of Janskerkhof 13A, 3512 BL, Utrecht. There's also a Dutch version available here.

The walk from Utrecht Central Station to Janskerkhof takes about 15 minutes. From the central hall of the station, enter the Hoog Catharijne shopping centre and take the exit marked Vredenburg. Cross the Vredenburg square. Turn right into Lange Viestraat, which will lead you to Neude. Walk past Neude into Lange Jansstraat. The Janskerkhof is at the end of this street. Turn left into Janskerkhof. The last building on your left (on the corner of Drift and Janskerkhof) is Janskerkhof 13-13A.
Plan your journey through
Google Maps
Janskerkhof is to the left of the direction the bus goes.

You can park on Janskerkhof; parking fees are over 5 euros per hour. It is advisable to find your own way using
Google maps
. Here we just provide general information about entering Utrecht.
No matter which direction you are coming from, you will always enter the city from the Northeast. It is important to realize that there is only one way to reach the parking lot at Janskerkhof; through the Biltstraat _ Wittevrouwenbrug _ Voorstraat _ Boothstraat.

Once you are at Janskerkhof 13A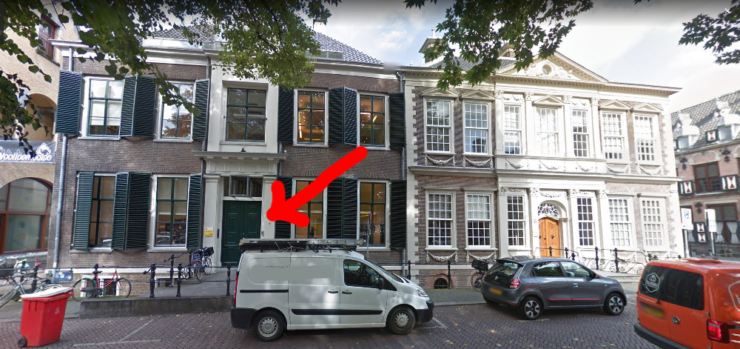 The building Janskerkhof 13-13A has two entrances; take the entrance at number 13A (rather than 13), on the left hand side of the building, – see photo. Push the button on the videophone and explain the purpose of your visit to the receptionist, and they will buzz you in.
When you get into the building, you will go straight down to the basement using the stairs (or the lift if you have trouble walking). In the basement, follow the signs. Note: for room K.09 you'll have to cross the kitchen K.07. For a map of the basement, click here.