Facilities
Flex lab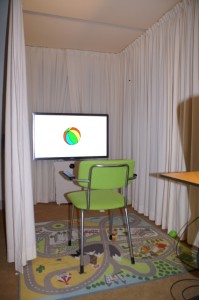 The flex lab (room K.03A) can be used for experiments involving recording video of the participant, and/or exposure to stimuli in a learning phase. The lab provides digital audio and video recording equipment and an experiment computer connected to a large display in the test area. The test area can be sectioned off by curtains to provide a non-distracting testing area for infants. A remote controlled pan-tilt-zoom camera is situated below the test display. The test environment is child friendly.
This facility can be reserved through the Online Babylab Reservation system; contact Desiree Capel for details.
Technical specs
Room
Approx. 7 m2 with no windows
With regular test desk (monitor, keyboard, mouse)
A pan-tilt-zoom camera allows capturing participant activity
Room is child friendly, but not decorated as a children's room: yellow carpet, white walls; test area can be sectioned off with unbleached cotton curtains.
Test area equipment
46″ monitor Philips 46PFL6606H/12
3x speaker Tangent EVO-E4 (left, right, front)
Pan-tilt-zoom remote controlled color camera Sony EVI-D70P
Microphone Beyerdynamic MPC 66 (acoustical boundary mic.) on 3m cable
Headphones with high ambient noise attenuation AKG K109SB
Control equipment
Stimulation PC (gw-lab-flex-01)

iiyama Prolite E2273 HDS 22″ monitor
Dell Precision 3640

Intel Core i5-10500 CPU
16 GB RAM
1 TB SSD + 1 TB SSD
Windows 10, 64 bit + Ubuntu Mate 20.04
Radeon Pro WX 2100
audio card Asus Xonar D2

Recording PC (gw-lab-flex-02)

iiyama Prolite E2273 HDS 22″ monitor
Dell Precision 3640

Intel Core i5-10500 CPU
16 GB RAM
1 TB SSD + 1 TB SSD
Windows 10, 64 bit + Ubuntu Mate 20.04
BlackMagic video-capture card

CD-player Denon DN-C110 (+ MP3 & WMA support)
Microphone preamplifier/mixer Phonic AM440
2x Headphones (with mouthpiece) with high ambient noise attenuation Viking V1 AKG K109SB
Room details
Usage rules
Keeping the facilities in this lab in the best possible condition requires your cooperation; please read the house rules and stick to them. Especially important:
Never ever change or remove any wiring; don't pull out any plugs
No eating or drinking (except coffee, tea, water)
Clean up
Ask for help, report all problems