How-tos
Using the Sound Level Meter
Last updated on 3 June 2014 by Chris
If you have suggestions on how to improve this document, or find mistakes, please send them to labman.gw@nulluu.nl
Default settings for the Precision INtegrating Sound Level Meter Type 2230 BK are as follows: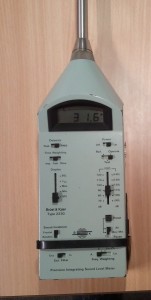 Detector: RMS
Power: On
Time Weighting: Fast
Mode: Operate
Display: SPL
FSD: FSD selects the measurement range of meter. Recommended values for use in the lab are 90 (30-83dB) or 100 (40-93dB)
Sound Incidence: Frontal
All | max/min | pause: ALL
EXT. FIlter: Out.
Freq. Weighting: A
For using it to calibrate the ear-tip SPL see the specific how-to.