Facilities
Open access desks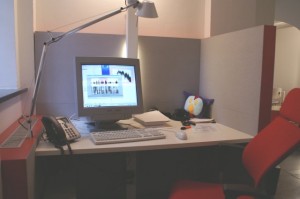 We have two open access workstations (hallway/room K.04, near K.05) and two BYOD desks. Use of these workplaces is open to individuals (particularly students) doing experimental research.
Equipment
Dell Precision 3640 (2 identical machines)

Intel Core i5-10500 CPU
16 GB RAM
1 TB SSD + 1 TB SSD
iiyama Prolite E2273HDS 22″ monitor
Windows 10, 64 bit + Ubuntu Mate 20.04
integrated audio card
integrated HD Graphics card (1920×1080)
Although users often use a preferred desk for several weeks or months, the desks cannot be claimed by mere mortals; who comes first wins. The other two (empty) desks in K.04 can be used for BYOD-purposes.
Room details
Usage rules
Keeping the facilities in this lab in the best possible condition requires your cooperation; please read the house rules and stick to them. Especially important:
Never ever change or remove any wiring; don't pull out any plugs
No eating or drinking (except coffee, tea, water)
Clean up
Ask for help, report all problems