How-tos
Connecting the Røde PodCaster USB Microphone
Last updated on 19 September 2013 by Martijn van der Klis
If you have suggestions on how to improve this document, or find mistakes, please send them to labman.gw@nulluu.nl
Introduction
First connect the USB cable to the microphone and to the computer. The first time you do this, the computer will detect the presence of new hardware and install some drivers. When the installation is finished, the microphone might be working right away. But when it doesn't, check the settings as described below.
Troubleshooting guidelines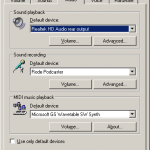 Every time you disconnect the Podcaster, Windows will look for another sound device, and change the Sound recording settings to that device. So when you reconnect the Podcaster, you'll have to adjust the settings manually!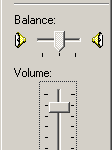 At the 'Sound recording' box, select the 'Rode Podcaster'.
Click on the 'Volume' button. The 'Volume Control' will appear.
Make sure 'Mute' is OFF (not checked), otherwise you will hear nothing.
Also, check if the volume slider is not down.
What if I get volume settings for the wrong device?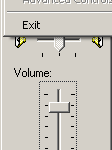 If you get the volume settings of another device, click on Options, Properties.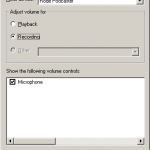 Check if the Mixer device is properly set, and if you are looking at the settings for recording or for playback.
Press 'OK' when you have the right settings.