Cabins
Cabin 6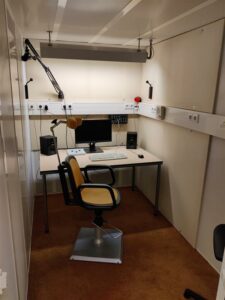 This booth is meant primarily for the SMI eye tracker during the pilot phase of an experiment. So while piloting or preparing an eye tracking experiment with the SMI eye tracker, this is the place to be. Occasionally, this room can be reserved for other experiments with a laptop or pc. However, since it is the eye tracking lab, experiments with the SMI have priority.
Technical specs
Cabin
Single wall booth, one door, small window in door, cooling ceiling;
Installed by Acoustair B.V., August 2006
Reverberation time:

0.30s at 125Hz
0.25s at 250Hz
0.30s at 500Hz
0.25s at 1000Hz
0.25s at 2000Hz

(measured August 2006 according to Dutch standard NEN 5077:1991)

Noise reduction from room K.12 to inside cabin:

36.2dB at 125Hz
45.3dB at 250Hz
53.3dB at 500Hz
51.4dB at 1000Hz
53.7dB at 2000Hz

(measured August 2006 according to Dutch standard NEN 5077:1991)

Cabin dimensions (internal, empty): width 160 cm, depth 250 cm, height 210 cm
(cabin width defined as the width of the wall along which the participant desk is placed)
Lighting: TL5 HE, standard color 830, direct or indirect illumination of desk;
after 10 min. warm-up approx. 570 lux direct, approx. 120 lux indirect;
dimmable from approx. 65 lux (direct) to max.
Chair: medical chair Coburg Ray-O-Seat 4045 S-GC
Internal equipment
Headphones Beyerdynamic DT250/80
Microphone Sennheiser ME-64
2x Active speaker Fostex PM0.4
External equipment
Dell Precision 3640

Intel Core i5-10500 CPU
21,5″ LCD (TN panel) Iiyama B2283HS (native 1920 x 1080 at 60Hz, response time 2ms),
Windows 10 / Ubuntu 20.04
RAM 16Gb

Phonic AM 220 mixer board
Intercom Aiphone LEF-3
Facility
This cabin is part of the Eye-tracking lab.